Talking Manhattan on UrbanDigs.com
soo, unfortunately the credit markets are back at a place we hoped they would never be. The internal plumbing of the finance world needs epic liquidity and fed actions to keep the gears running. Stocks are down like 33% right now in a 5-6 week period or so. Credit spreads are blowing out indicating more stress and possibility of credit event, even though the Fed took all those actions to mitigate that risk. Treasury yields and gold are selling off as equities plunge, a sure sign of massive liquidations at large institutions selling assets that arent down 30+ percent. So thats crazy..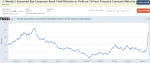 Ackman stating we need a "30 day spring break holiday" funded by the Govt to contain this. Is he wrong there? I mean, we all are isolating maybe now is the time to be bold and shut down with hopes to contain virus & contain duration of shutdown? Guess his point is the alternative presents way too much risk for a long duration until virus containment. Then you got the economic impact, of what industries shutter completely and what others are bailed out/backstopped?
Fiscal stimulus coming, and it will be massive. but if stocks and credit spreads do not reverse course after that - well, I dont want to think about that scenario.
Wishing everyone well and stay safe out there! and a HUGE thanksto all the first responders